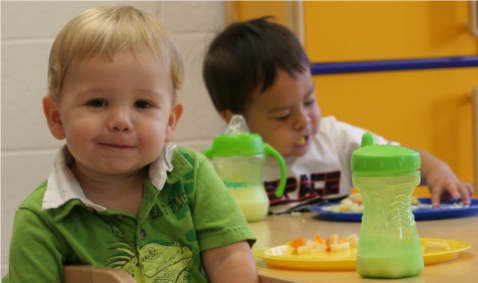 ABBA Christian Childcare admits any child, regardless of race, sex, ethnic background or religious affiliation. There will be flexibility, with DCFS (Department of Children and Family Services) guidelines, in placement of children in different classrooms to meet their developmental needs. ABBA provides both part-time and full-time care. We will be happy to accommodate any changes in parent's work schedules throughout the year. However, this is dependent on staffing levels and enrollment. ABBA does not provide drop-in care.
We have a fundraiser available throughout the year which is the Manna Group Scrip Program. This program offers gift cards from over 300 merchants in various amounts. Our center receives a percentage of your order back which is used to purchase supplies for the classrooms or purchase new equipment. The amount we receive depends on the merchant, anywhere from 2%-50%! Please consider purchasing gift cards through this for personal use (every day needs like groceries) or getting a gift for someone, whether it is their birthday or the holiday season (you can buy the gift at the merchant's store using the card or give them the gift card itself).
It is an easy, efficient way to get your shopping done  while helping the center at the same time. Order forms are available in the basket outside of the ABBA office, across from the front door. Orders are currently placed on the 1st and 15th of each month. Please give 3-5 days for delivery.  Speak with the ABBA director if you have any questions.
Please also consider donating gently used clothing, linens, and shoes to the blue bins in our parking lot. Funds raised from the blue bins also help ABBA purchase new supplies needed in the classrooms.