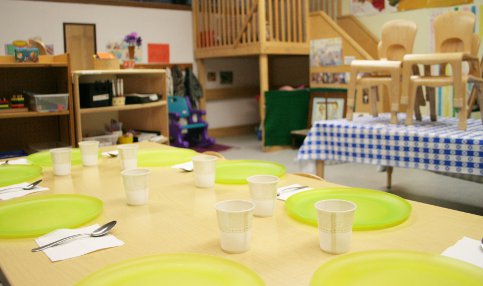 What are your hours?
We are open from 6:30 AM to 6 PM, Monday through Friday.

Do you accept the Illinois Child Care Assistance program funding?
Yes we accept Illinois Child Care Assistance.  We are happy to help you apply and get approved prior to your enrolling. 

How long does it take to get approved for Child Care assistance?
The process takes about 8-10 weeks.  

How do I know if I'm eligible for Child Care Assistance?
There is an online calculator where you can enter your income, family size, number of children and other factors.  This calculator will help you to determine if you are eligible.

Do you charge a surcharge to Child Care Assistance clients?
We charge $25 per week the cost of your assigned Parent Co-payment.  We do this because we get paid about 75% of what we charge for full tuition from Illinois Child Care assistance.

Do you have extra fees?
Our only fees in addition to tuition are the one-time registration fee.  Food, field trips, and special guests are all included in the tuition.  If you pay your tuition late or pick up your child late, there are late fees.

How much is your registration fee?
The registration fee is $125.  It is a one-time fee.  The fee for a second child in the same family is $75.  We occasionally have registration fee specials.

Is your center licensed?
Yes, we are licensed by the Illinois Department of Children and Family Services.  We also have a Quality Rating of two stars.

Do I have to belong to the church to have my children attend ABBA?
No, we accept children from all backgrounds and do not discriminate on race, religion, sex or economics.  

Do you offer discounts?
Yes, we offer several discounts as follows:

• Electronic Funds Transfer Discount:  3% discount for full tuition families.

• Multi-Child Discount:  15% off the oldest child for full tuition families, $5 off  any additional children for families on Child Care Assistance

• Church attendance discount:  If your family attends Family in Faith for more than 50% of the Sundays in a quarter, then you are eligible for a discount.  Full time families would receive a discount of $195.  If children attend part time then that discount is multiplied by the fraction of days that they attend per week.  For example, if a child attends 3 days per week, it would be multiplied by 3/5ths.  This discount is awarded at the end of each quarter. 

Do you offer part time care?
We offer full and part time care.

Do you close for snow days?
Unless the roads are absolutely impassable, ABBA will be open.  We know parents have to go to work and need childcare.

Are the teachers at ABBA degreed?
All of our teachers have a minimum of an Associate's Degree in childcare or a related field. Several have Bachelor's degrees in Early Childhood education.  

How many children and adults are in the classroom?
This varies on the age of the children.  

• Infants: 1 adult to every 4 infants.  A maximum of 10 in the classroom.
• Toddlers: 1 adult to every 5 toddlers.  A maximum of 9 in the classroom.
• Two Year Olds: 1 adult to every 8 two year olds.  A maximum of 9 in the classroom.
• Three Year Olds: 1 adult to every 10 three year olds.  A maximum of 17 in the classroom.
• Four/Five Year Olds:  1 adult to every 10 children.  A maximum of 20 children in the classroom.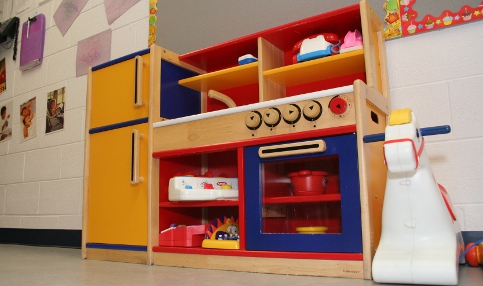 Can you give my child medicine at the Center?
We may give prescription medication if it is given to us in the original container with written instructions for the time it is to be given. Your child's name must be on the prescription.

We can also give non-prescription medication if it is brought in the original container with written instructions to time and amount to be given. This must also have your child's name on it.

We can NOT give medication to be used as a fever suppressant.  For example, if a child is teething, we could give them a children's pain reliever.  However, if a child has a fever, we cannot give them a pain reliever to reduce their fever.

Do I have to pay tuition if my child is not there?
Yes. If you are on vacation or your child is out sick, you still have to pay your tuition. If you are a full tuition family, you will receive a free half week if your child is out sick for more than half of the week. After a year of continuous attendance, you get a free week which you can use for vacation. Forms are available for both and you must submit the form to receive the credit.

What documents are needed to enroll my child?
To enroll your child, you will need to fill out all the center provided documents, along with a physical/immunization record from your child's pediatrician. You will also need an original copy of your child's birth certificate (it will be returned to you).

Can I deduct the cost of childcare from my taxes?
Yes, you can deduct the cost of childcare.  A statement will be available at the beginning of the year that details the payments you made to the Center.

Do you provide food for the children?
We provide breakfast, lunch, and afternoon snack for all children as long as they are present at the time that the meal/snack is served. Infants are fed on a "demand" schedule and will be fed as often as needed. ABBA provides fruits, vegetables, oatmeal cereal, and rice cereal for infants as well as "Parent's Choice" formula. If you are using another brand, you will have to provide the formula or breast milk.

My child is three and not potty trained.  Will he be allowed to attend?
Yes, however there will be an additional cost to cover the added labor for a child who is three and not yet potty trained.  

Can I come to visit the center during the day?
We have an open door policy. You may come to visit at any time. Some children, especially younger ones, don't understand that you are coming to visit and may be upset when you leave.  

My child cries every time I leave.  Is this normal?  What should I do?
It is very normal for some children to have separation anxiety when their parents leave. We have found that if you have a routine that you stick to every day, this reassures the child. Bring them in, give them a hug and kiss, reassure them that you will be back and leave. Generally if they cry, they stop within a few  minutes of our leaving. You are welcome to call back later and check to see if they are settled. 

Some centers have a lot of turnover, do you?
We are proud to say that our staff is very consistent. We have staff members who have been here from 2 to 15 years.  We do have some seasonal substitutes as well. Most of them are former employees.

Are you NAEYC accredited?
Currently we are not accredited. However we have undergone the Excelerate Illinois evaluation and received a Silver Circle of Quality.  

How do I pay my tuition?
Tuition is paid weekly. Tuition can be paid by cash, check, money order, or electronic funds transfer. There is a discount (3%) for paying via electronic funds transfer for full pay families. If you receive Child Care Assistance, there is a $5 discount for paying via electronic funds transfer.

Do the children take naps?
We have nap time for all children as required by the DCFS guidelines  While children don't have to sleep, they are required to lay quietly on their cots.

Do the children go outside?
The children go outside daily as long as weather permits. This includes going out in the winter as long as the windchill is no lower than 20 degrees in the winter, or the heat index is no higher than 95 degrees in the summer months. We take the children out to play in the snow, so children will need boots, snowpants, coats, and mittens.